Jennifer Lawrence Shrugs Off Cannes' Unofficial Costume Code With Alternative Of Footwear
Jennifer Lawrence knows how to command a red carpet ― in flip-flops, no less.
The actor appeared at the Cannes Film Festival for the premiere of "Anatomy of a Fall" on Sunday, dressed in a red, crepe silk gown by Dior Haute Couture, paired with an Archi Dior necklace made of white gold and diamonds.
Lawrence, who was dressed by stylist Jamie Mizrahi, appeared to walk at least part of the carpet in black flip-flops.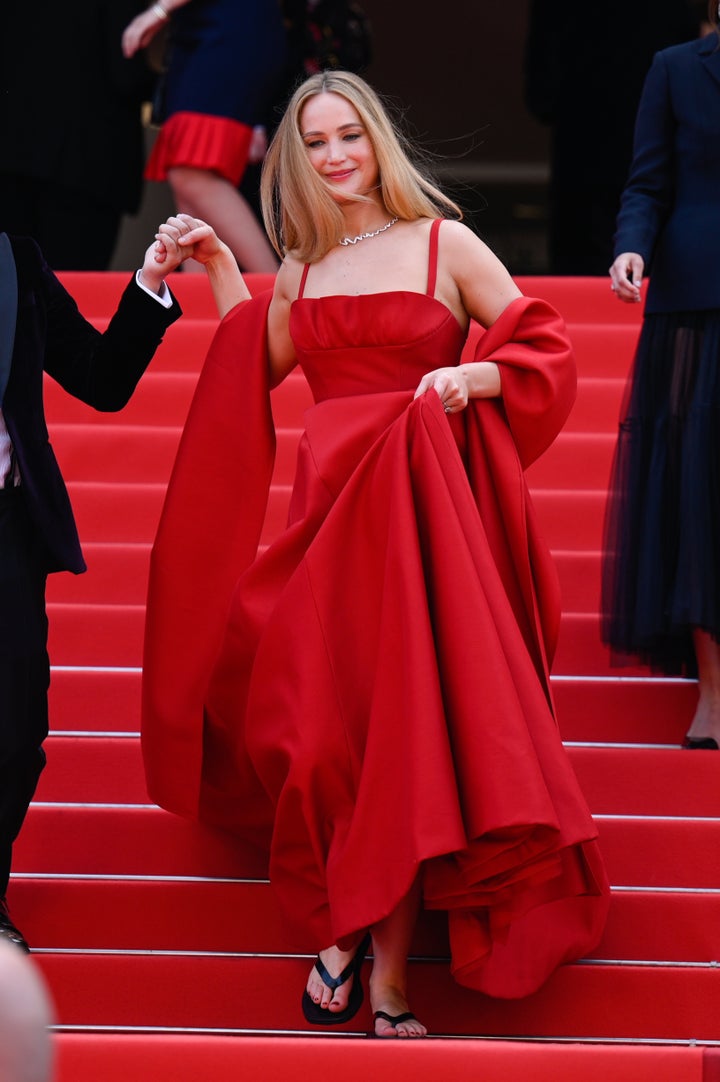 It was a bold choice, since Cannes famously, and contentiously, encourages women to wear heels on its red carpet. In 2015, a number of women were reportedly turned away from attending a premiere of "Carol" because they were wearing flats.
HuffPost reached out to Mizrahi for further comment about Lawrence's footwear, and to the Cannes Film Festival to clarify its current dress code policy.
Lawrence's decision to wear sandals brings to mind Kristen Stewart's 2018 appearance at the festival. The "Spencer" star posed for photographers on the red carpet in Christian Louboutin stilettos, which she then removed to walk the rest of the carpet barefoot.
Two years earlier, Stewart had spoken out about the festival's implied expectation that women wear heels.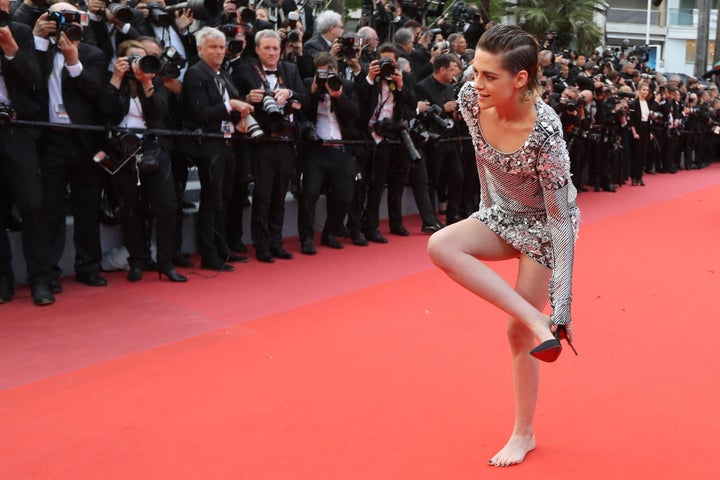 "If [a man and I] were walking the red carpet together and someone stopped me and said, 'Excuse me, young lady, you're not wearing heels. You cannot come in,' then [I'm going to say], 'Neither is my friend. Does he have to wear heels?'" Stewart said in 2016, according to Vanity Fair.
"It can work both ways," she added. "It's just like you simply cannot ask me to do something that you are not asking him. I get the black-tie thing but you should be able to do either version — flats or heels."