Jamaica's Prime Minister Tells Government To 'Move Ahead With Speed' To Become Republic
Jamaica's prime minister, Andrew Holness, has instructed his authorities to "move ahead with speed" in abolishing the nation's constitutional monarchy.
"It is time that Jamaica becomes a republic," Holness stated, in response to a narrative printed Tuesday in The Gleaner, a newspaper in Jamaica.
"The process is not simple, and we have known this since we started on this journey. And we are making sure that we check every box as we move deliberately in that regard."
Holness added that he advised the minister of authorized and constitutional affairs, Marlene Malahoo Forte, to "please move ahead with speed and alacrity on this matter."
The transition to a republic would entail Jamaica eradicating King Charles III as head of state for the nation, which at the moment acknowledges him as its monarch.
When Barbados grew to become a republic in November 2021, the nation eliminated its then-sovereign — Queen Elizabeth II — as head of state. Days after that transition, Holness advised the outlet Loop Information, "There is no question that Jamaica has to become a republic."
"We have put together a plan to move towards that in a way that is meaningful and substantial in function and form," he stated on the time. "That is what we are going to do."
The prime minister later advised Prince William and Kate Middleton ― throughout their controversial tour of the Caribbean in 2022 ― that Jamaica was "moving on" from its previous.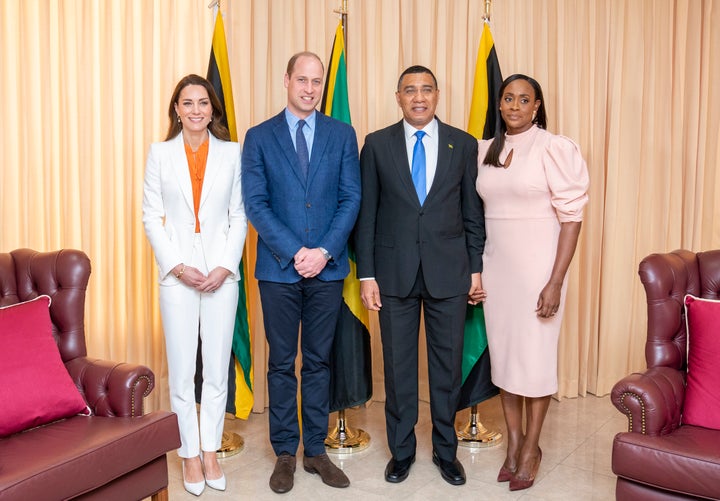 "Jamaica is, as you would see, a country that is very proud of our history and very proud of what we have achieved," he stated. "And we intend to attain, in short order, our development goals and fulfill our true ambitions and destiny as an independent, developed, prosperous country."
After Jamaica and Belize made clear throughout the couple's tour that the nations have been each starting republic talks, William stated that the royals "support with pride and respect your decisions about your future."
William's feedback fall according to Buckingham Palace's typical response when requested about Commonwealth international locations changing into republics, because the palace usually says that may be a matter for the individuals of a given nation to determine.