In artist Maria Maea's arms, the palm turns into a medium
It's a sunny afternoon, proper earlier than golden hour, and multidisciplinary artist Maria Maea is surrounded by palm fronds rising within the nook of a nondescript car parking zone in Echo Park. She grabs her curved knife and cuts just a few leaves earlier than transferring on to a different location. This has been a ritual of hers for practically two years, utilizing the ever present palm as materials for mixed-media sculptures manufactured from wire, dried vegetation and, usually, casts of her household and buddy's faces.
Pointing to the small palm tree, she notes that the palm is similar one she has in her yard — albeit "it has grown so differently."
That palm in her yard began all of it. Entering into Maea's yard looks like being transported into her artistic thoughts: Swiss chard, squash and mint develop in cracks of concrete, a fruit from a citrus tree falls subsequent to a spiral staircase resulting in nowhere, and a desk embellished with seashells, a dried flower, photographs and a mirror create a kind of altar, a set of things, when inspiration is required.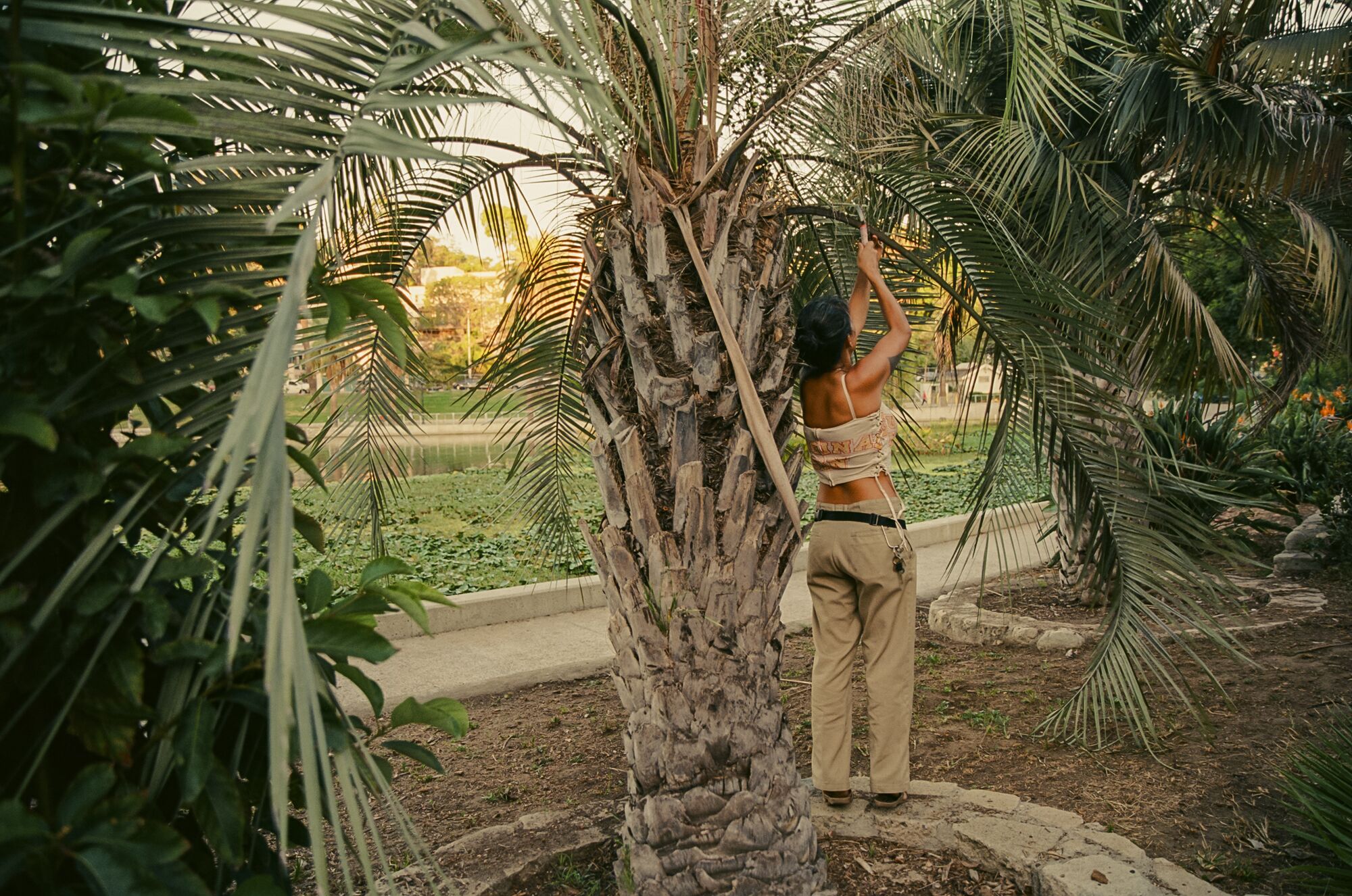 She factors to a dried, towering sunflower that grew out of the concrete. In awe, Maea explains that she occurred to sprinkle a seed right into a crack, not anticipating to be welcomed with a large flower. For her first solo present at Murmurs Gallery, which opened Oct. 28 and runs till Dec. 17, the dried plant is used as a fishing pole held by a sculpture of her brother, a nod to her Samoan member of the family's connection to fishing and dealing at canneries upon arriving within the U.S.
It's clear, Maea's best inspiration is nature itself. She has a capability to see plant matter's potential to create new worlds. "Plants have a body, we mimic it, it mimics us," explains Maea. "I'll use corn as a spine and people recognize it because we're mirrors of nature."
In the course of the pandemic Maea started a gardening observe, utilizing the soil and land accessible to her to develop meals. Via this course of she began to consider sources and abundance.
One afternoon, as she sat wanting on the palm in her yard, on the time only a child tree, one thing clicked. "I wanted to see the environment as plentiful instead of scarce," she says. "Palms are omnipresent, but invisible. They're decorative, but we don't really see them as plants."
The palm, a contentious signifier of L.A., is a ubiquitous, nonnative invasive species delivered to the town a long time in the past to solidify the parable of Los Angeles as a "semi-tropic" paradise. For Maea, the advanced identification of the palm felt like a mirror to her personal identification rising up Samoan and Mexican in punk and DIY scenes in Lengthy Seashore. The palm impressed her to make use of this extremely plentiful, resilient, however usually discarded ingredient, and recontextualize it.
"I'll see a palm growing in desolate areas, and I feel like I have a relationship to a space automatically in a different way than I did before [working with palms]," she says. "I'll be like, 'How long have you been there? What's your story?'"
For the final two years, Maria has traversed the town gathering palms from Echo Park, the L.A. River and her native Lengthy Seashore. "The palm feels like a mapping tool, some of them are intentionally planted and some break through concrete of a parking lot. I can remember when I cut it. How I cut it," she explains.
Maea taught herself to weave the palm fronds utilizing a Samoan method. The repetitive act grew to become a meditation. "What is this unlocking?" she requested herself. "I know my dad is from Jalisco and my mom is from Samoa, but our actual history has been kind of melted and molded by coming here. These practices are a way for the body to remember things the mind can't comprehend."
Ultimately, as she equipped for her solo present, Maea introduced her household in to assist weave, making the hassle communal. As patterns and sculptures emerged from the weaved objects, they grew to become like quilts of the town and of her family's historical past.
On a scorching September day in Lengthy Seashore, Maea's mom, little sister, two brothers and aunt sat within the frontyard of her mom's dwelling with palms in hand. Some had been chopping thorns off stems, others weaved. Her aunt, Sanita Tuufuli, took a palm and began weaving it, explaining within the course of how in Samoa the weaved palm has a wide range of makes use of: a fork, a spoon, a plate, a window to maintain the rain out. As they weaved, the household cracked jokes, laughed and shared tales.
They did this collectively for 3 weeks, Wednesday by means of Friday, in preparation for the solo present. "I feel like my whole family is having an art show," Maea says as she described the week of the opening.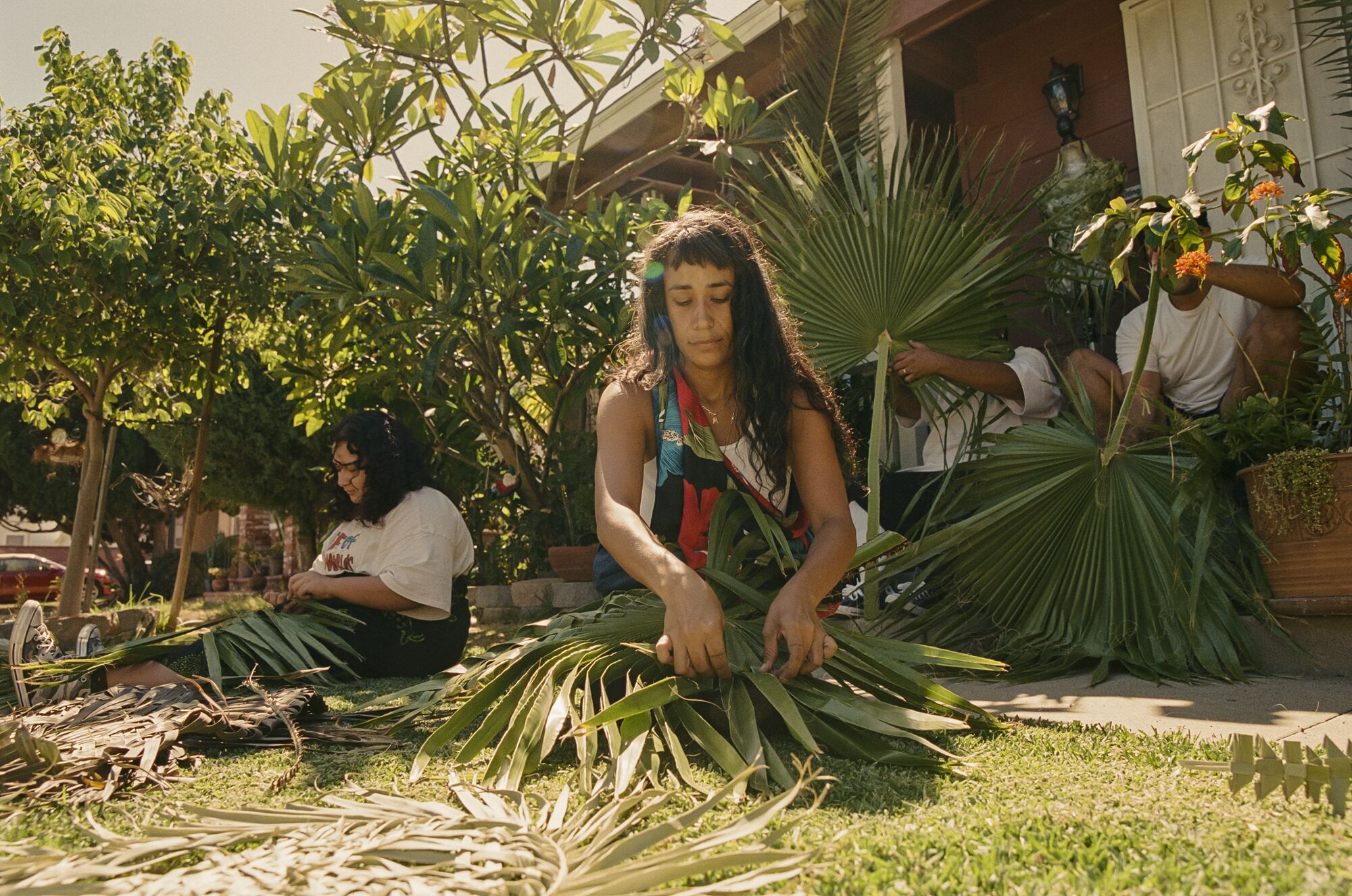 In some ways, the method is extra vital than the result for Maea. By gathering her household and creating artwork collectively, they've imbued reminiscences and feelings into the objects themselves, they've bonded in new methods, and so they've had a chance to showcase their creativity.
"I can remember the parts of the sculpture where I was pissed off at my boyfriend or talking to my mom," she explains. "We're gathering memories along the way, they all live in these weaves and these moments that are in some larger piece."
The result's an allegory, a fable of her personal making: a whirlpool manufactured from palms wherein a determine of Maea's mom emerges from, her brother's sculpture stands close by separate from the swirl with the sunflower fishing rod, donning his signature Lengthy Seashore cap and Converse Chuck Taylors. Subsequent to him, a forged of his son's face encased in a jasmine bush that grew in Maea's yard. In order to deliver this sculpture into the gallery, the jasmine bush was displaced, due to this fact inflicting root shock, a metaphor of migration and diaspora.
"When I make these humanoid sculptures, I think of them as storytellers," she explains. "I reuse my mom's face over and over because it's telling this story about who we are."
Maea's sculptures have a fractured ingredient to them, very similar to the fractured nature of reminiscences.
Finally, this work, this course of, asks us to consider how reminiscence, whether or not ancestral, familial or cultural, capabilities. How does it bend, fracture, evolve additional time to serve our wants? How does it finally develop into a fable?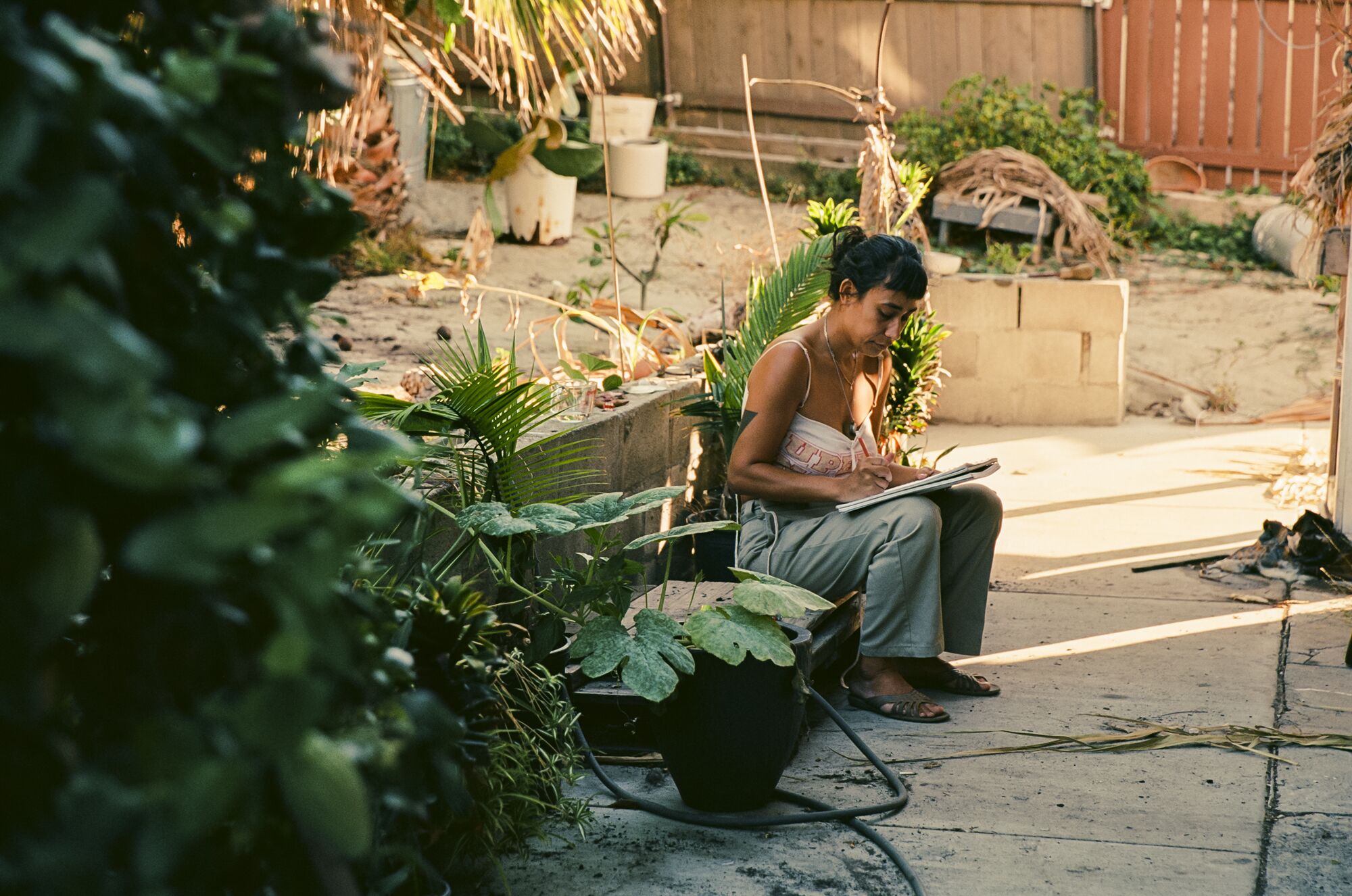 'All in Time'
The place: Murmurs Gallery, 1411 Newton Avenue, Los Angeles
When: Tuesdays and Wednesdays, Fridays and Saturdays from 11-6PM. Closed Sundays, Mondays, and Thursdays.
Info: https://murmurs.la/